After the prototype rhythm Ace R-1 was shown at NAMM in 1964, Ace Tone released the Rhythm Ace FR-1. The first drum machine produced by a circuit called a diode matrix.
It showed rows of pulses that would depict the position of each instrument. It has 16 preset patterns and 4 buttons to manually play sounds including cymbal, claves, cowbell and bass drum. If the multiple buttons are depressed together it could play over 100 possible rhythm combinations. The Hammond Organ Company also sold the FR-1 presets in their organ models of the era.
Grab yourself a free download of this classic vintage drum machine! Some of the best snares around come out of this piece of gear. They were a very basic machine but we've got some pretty clean individual hits to take you back to the past, where everything had a bit more funk.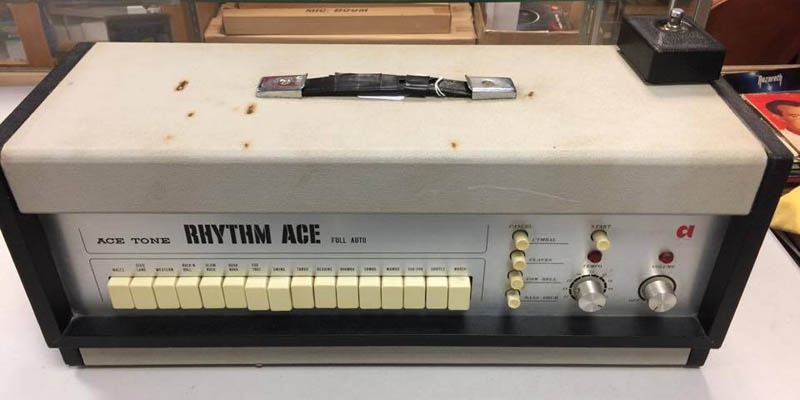 Download – Ace Tone Rhythm Ace FR-1
Drum Machine Details
Released 1965
Type Subtractive Analog Synthesis
Controls Buttons, Knobs, Start / Stop Pedal / MIDI / Sync / Trigger
Tuning Standard
Polyphony 4
Outputs 2x 1/4″ Phono Jack, Mono Out
Contents
3 Kick Drums
4 Snare Drums
3 HiHats
2 Shakers
2 Rimshots
2 Toms
1 Frog
1 Crash
1 Cowbell
2 Clave
5 Bongos
Download Size 888 KB Zipped
Audio Demo
Images