A super compact and portable digital drum machine based on 12-bit PCM samples with a built in LCD matrix sequencer.  The acoustic version of the DR-220a Dr.Rhythm was released by Boss in 1987.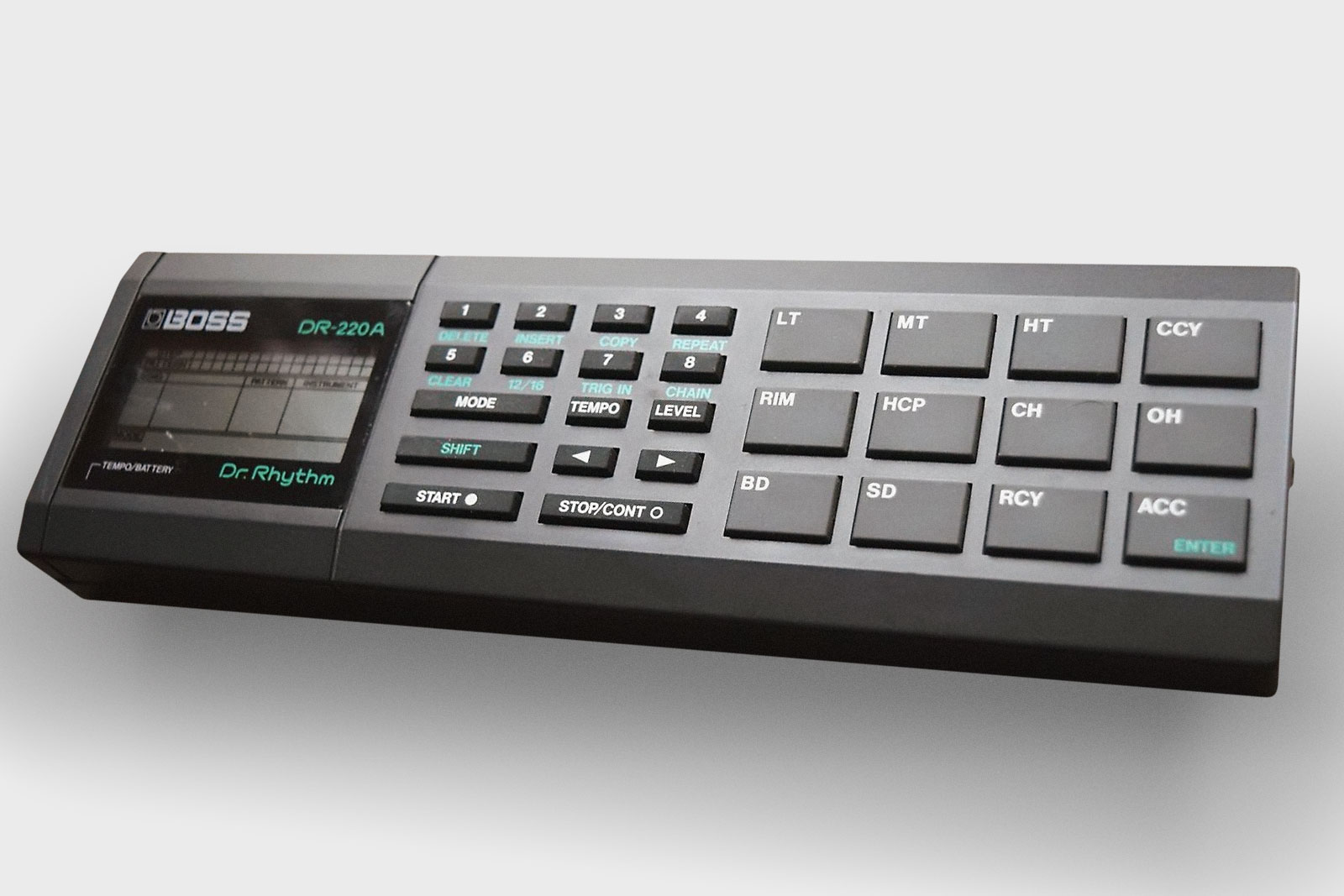 There were two versions of the DR-220 released by Boss :
the "DR220a" with Acoustic sounding drum samples
the "DR220e" with an Electronic-oriented drum sample focus.
To begin, you can't call this drum machine realistic. For an acoustic kit it wasn't very convincing. However, it's not always a good thing. It's this quality that makes these kind of drum machines stand out from the crowd and so evaluate your music production.
In 1987, digital technology was still very expensive and Boss wanted to provide beginners with accompaniment with these inexpensive units. Nowadays 12-bit drums sound terrible next to multi-gigabyte samplers but the DR range was built in a time when this was normal. The extra grit and hiss used to be part of the era. Hence, working within the limitations of the gear resulted in unique creativity and solutions you should try and embrace today.
Features
16 Buttons and 12 pads (not velocity sensitive).
Inputs/Outputs:
Mono main output.
Headphones output.
Trigger I/O (pulse +5V) Input.
Originally the machine came with a plastic silver case.
Download Contents
2 Kick Drums
2 Snare Drums
2 Crash Cymbals
2 Ride Cymbals
4 HiHats (2 Open, 2 Closed)
2 Rimshots
6 Toms (2 High, 2 Medium, 2 Low)
2 Claps
Download Size
1.1 MB Zipped
Demo
Images